The IT market today is fiercely competitive. So, for any organization to stand out, finding the right talent is crucial. It's not just a one-time thing. Globally, only 29% of IT and tech workers want to stay with their current employer. This means there is a continuous need to look for the perfect candidate to aid your growth.
However, solely relying on your HR team may not be enough, as their focus is divided between the other tasks they have to manage. And missing out on the right talent is not an option. This is where IT staffing companies come in. They play a pivotal role in effortlessly connecting you with top-notch IT professionals.
In this article, we bring you the top IT staffing companies of 2023 to help you out. Keep reading for more!
Why You Need An IT Staffing Company in 2023?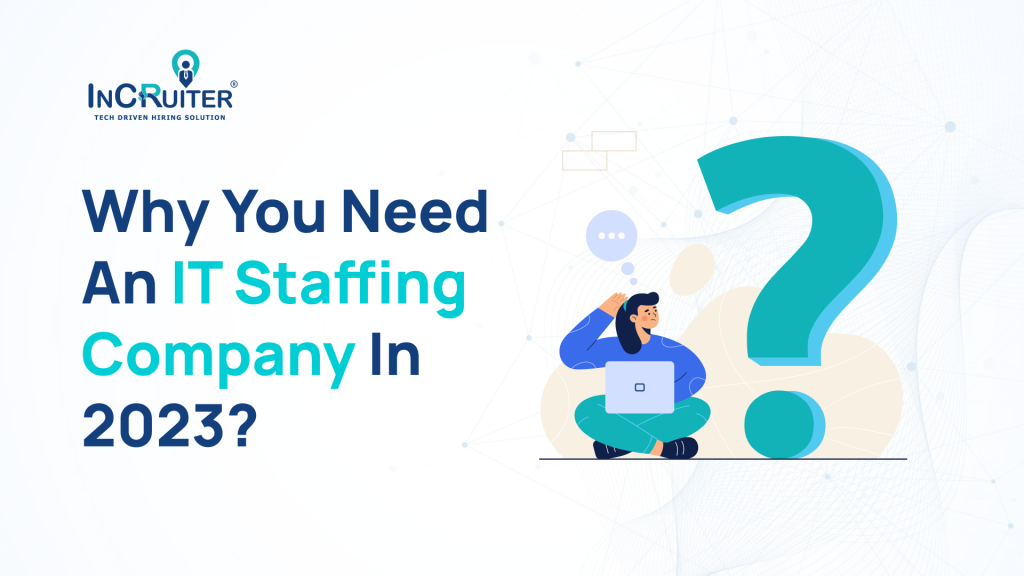 Imagine you run a company, and suddenly, there is a critical project deadline. You need a highly skilled developer immediately. But, of course, the hiring process takes time. In fact, if we go by the statistics, the average time to fill a job requisition is 41 days. So, what do you do? Choose an IT Staffing company.
An IT staffing company can swiftly provide a qualified candidate who matches your requirements. This saves the company's valuable time and resources while ensuring the project stays on track. They possess the necessary skills and expertise you need to streamline your hiring process.
Top IT Staffing Companies 2023
Without further ado, let's unpack everything you must know about the top IT Staffing Companies in 2023 so you can make the right choice and onboard the best candidate without any hassle.
InCruiter
InCruiter is not just another IT staffing company but a game-changer in the industry. It's their innovative approach to IT talent acquisition that sets them apart. 
InCruiter employs advanced AI and data-driven methods to match organizations with the perfect IT professionals. They have a remarkable track record of placing top talent in positions that align with their skills and aspirations. Some of the main benefits that InCruiter provides include:
They have a pre-vetted resource pool to help you find the right talent immediately
The variety of tools they offer helps you make the fastest hiring
You can easily hire the top talent and pay them on an hourly basis
Flocareer
Next on the list is Flocareer. While still emerging in the IT staffing industry, is carving a distinct niche for itself. Unlike InCruiter, they don't bring you a pre-vetted talent pool. That said, they have experts to interview candidates for you, so you can rest assured that you are hiring a perfect fit.
They also bring you an on-demand service that helps candidates take interviews at their convenience. From live interview platforms to JD matches, they have quite a few tools on offer.
Robert Half Technology
Robert Half Technology is an old player in the IT staffing arena. They come with a global presence and are a trusted resource for organizations seeking IT professionals.
Their extensive services range from temporary placements to executive-level recruitment, catering to a wide spectrum of hiring needs. Robert Half Technology makes use of its deep industry experience and an expansive network to connect companies with top-tier IT talent across various industries. However, they are missing AI and data-driven methods, which are crucial in today's day and age.
Test Gorilla
Test Gorilla has a unique approach it emphasizes candidate assessment and screening as a primary step in the hiring process. They come with an array of tests and evaluations and provide valuable insights into a candidate's skills and cultural fit.
This data-driven approach ensures that organizations not only find candidates with the right technical abilities but also those who align seamlessly with their company culture. However, with Test Gorilla, you are missing AI capabilities, which can prove to be useful. That said, the rigorous assessments will help you evaluate the candidate better.
Randstad
Randstad is a global staffing powerhouse renowned for its extensive reach and comprehensive services in IT staffing and beyond. They have a solid presence in numerous countries and a vast network of professionals, along with an in-depth understanding of the global job market.
Their offerings range from temporary placements to workforce solutions, making them a great choice for organizations seeking IT professionals worldwide. However, they don't employ AI or data-driven capabilities for precise employer-candidate matching.
Conclusion
These were all the top IT Staffing companies in 2023 that can help you find the right talent. However, to stand out, always look for platforms that offer the right tools along with innovation, such as an AI-driven approach. It will not only help organizations find the right talent but also streamline the entire recruitment process, ensuring that your businesses can stay agile and ahead of the curve.
Source Link: https://resources.workable.com/tutorial/time-to-hire-metrics#:~:text=The%20average%20time%20to%20fill,on%20efficiency%20in%20future%20hires.
Q. What does a staffing company do?
Ans: A staffing company connects employers with qualified job seekers. This creates an ease in the recruitment process and ensures a seamless match between talent and job requirements. 
Q. What is staffing recruitment?
Ans: Staffing recruitment is nothing but the process of identifying, sourcing, and hiring qualified candidates to fill job vacancies within an organization.
Q. Which is the best staffing company in 2023?
Ans: InCruiter is one of the best staffing companies in 2023.