From paper-based procedures to AI-backed software, RPO (Recruitment Process Outsourcing) has come a long way, making hiring efficient and cost-effective for recruiters. Businesses are considering RPO as a strategic approach for their recruitment needs.
With economists giving different opinions on the economic trajectory, companies only want to invest their money in the best business strategies. Recruitment process outsourcing is one of the approaches that not only streamlines the hiring of top candidates but also ensures increased ROI. Further in this blog, we will discuss top RPO trends in 2023 and beyond. Keep reading! 
What is Recruitment Process Outsourcing? 
RPO (recruitment process outsourcing) is a strategic partnership between the organization and an external service provider to manage all aspects of recruitment. This collaborative method aims to simplify hiring costs and enhance the overall quality of applicants brought on board. Recruitment outsourcing service providers can handle various hiring tasks, including job posting, interviewing, applicant sourcing, and even onboarding. 
Trends in Recruitment Process Outsourcing
The Recruitment process services market is contrived by multiple factors, such as it allows businesses to save money, time, and resources on hiring. Its vast network offers companies with broad access to top talent across the globe. Here are some RPO trends you can consider: 
Data-driven decision making 
RPO is expected to become progressively data-centric. Businesses are leveraging data analytics to make strategic hiring decisions. It provides robust data analytics software that allows companies to calculate the effectiveness of their hiring efforts, forecast future hiring requirements and identify areas for improvement.
Improved Candidate experience 
A positive applicant experience is crucial to attracting top talent. Recruitment process outsourcing services focus on improving the candidate journey by executing tech-driven solutions like AI interviews, AI-powered assessments, personalized communication, and chatbots. This trend ensures that applicants are well-informed, satisfied, and engaged throughout the hiring procedure. 
Interview-as-a-service
One of the most essential RPO trends is IaaS (interview-as-a-service). It is a solution that offers businesses on-demand access to expert interviewers, interview scheduling software, and assessment tools. IaaS is revolutionizing the recruitment industry, allowing hiring managers and recruiters to conduct interviews effectively, improving the candidate experience, and reducing time-to-hire. 
DEI
Diversity, equity, and inclusion—these are not just 3 powerful words but pillars of a strong organization that values its employees, leading to improved staff retention. Now, you must be wondering how RPO is contributing to DEI. Well! RPO professionals integrate DEI strategies into their hiring procedure. They're helping companies source a diverse pool of applicants, creating an inclusive workspace and eliminating bias. 
Benefits of Recruitment Process Outsourcing
Here are some benefits of RPO that you can experience by integrating it into your company's hiring strategy: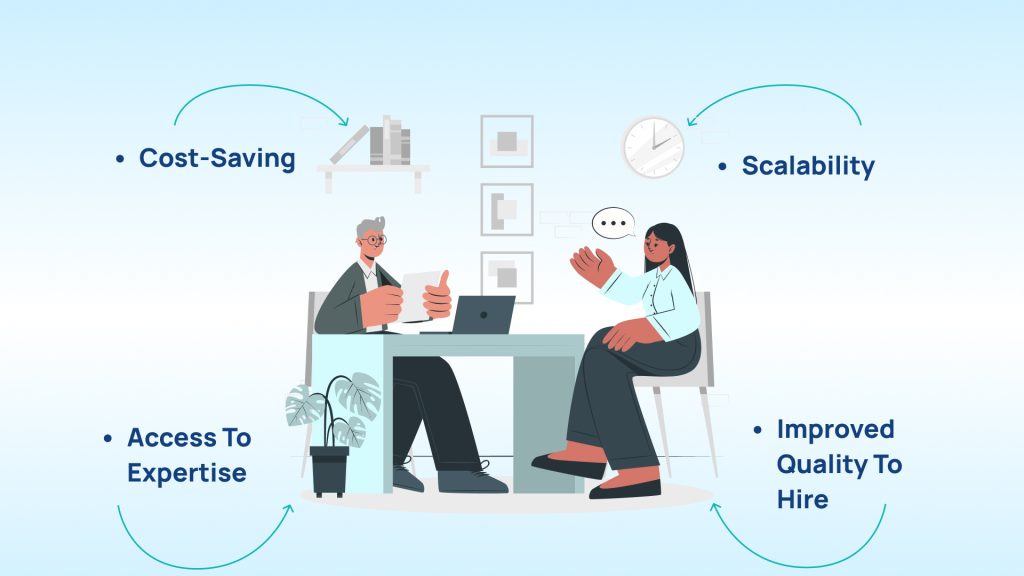 Cost-saving 
Even if you're one of the giant organizations in the industry, you wouldn't mind saving money on hiring, right? This is where RPO comes into the role; it can lead to significant cost-saving by improving recruitment procedures, minimizing turnover, and reducing hiring mistakes. 
Scalability 
These services are personalized to a company's specific requirements, which makes it a scalable approach that adapts to frequently changing needs in hiring. 
Access to expertise 
RPO specialists bring knowledge and resources to the table, ensuring the company benefits from the finest hiring practices. 
Improved quality to hire 
It focuses on finding the top-fit applicants, leading to enhanced employee performance and retention.
Wrapping Up! 
Remember, new positions take an average of 42 days to fill, but with an efficient approach like RPO, you can minimize time-to-hire and increase employee retention. However, make sure to choose a leading recruitment process outsourcing service that stands at the forefront of the hiring industry to ensure satisfactory and efficient results. 
Q1. How does RPO differ from traditional recruitment methods? 
Ans: RPO offers comprehensive recruitment solutions, handling the entire procedure, from assessment, selection, and sourcing to onboarding. Traditional methods typically focus on sourcing and placement. 
Q2. Can small businesses consider RPO?
Ans: RPO is beneficial for all sizes of organizations. Small businesses can consider recruitment process outsourcing to access modern hiring resources and expertise that they may not have in-house. 
Q3. Can recruitment process outsourcing services align with my company culture?
Ans: Yes! RPO services work closely with their clients to understand their company values and culture, ensuring that applicants align with the organizational philosophy.