If you are a business owner or an HR, you must understand how difficult it can be to interview candidates. Using traditional methods to interview has become outdated and is not always feasible. In a world where remote work and international talent acquisition have become the standard, video interview platforms are the way to go.
Video interview platforms provide organizations with an easy and effective interview approach. But which platform to choose?
With so many video interview platforms available in the market, choosing the right one for your business can get overwhelming. To ease things out for you, we have curated a list of the top 5 video interview platforms that will surely enhance your recruitment process. Let's dive in.
Why Do You Need a Video Interview Platform?
If you are someone who still uses traditional interview methods, then it's time to upgrade. Traditional interview methods are not just time-consuming but also heavy on the pocket and less efficient. In the current interview scenario, video interview platforms are the new hype, and for all the right reasons.
Imagine if you have around 100 applications for one position and have to call each candidate to the office to conduct in-person interviews; how tedious it can get. This entire process can be completed in less than half of the time using interview management softwares that improves efficiency by ten times.
Video interview platform streamlines the entire interview process and makes it more efficient. They offer flexibility in scheduling interviews, reduce travel costs, and save a significant amount of time. So, if you are still hesitant about choosing a video interview tool, then the list below will surely help you.
Top 5 Video Interview Platforms: An Overview
Below is a list of the top 5 video interview platforms currently in the market. Based on your requirements, you can choose a platform that fits your needs. Have a look!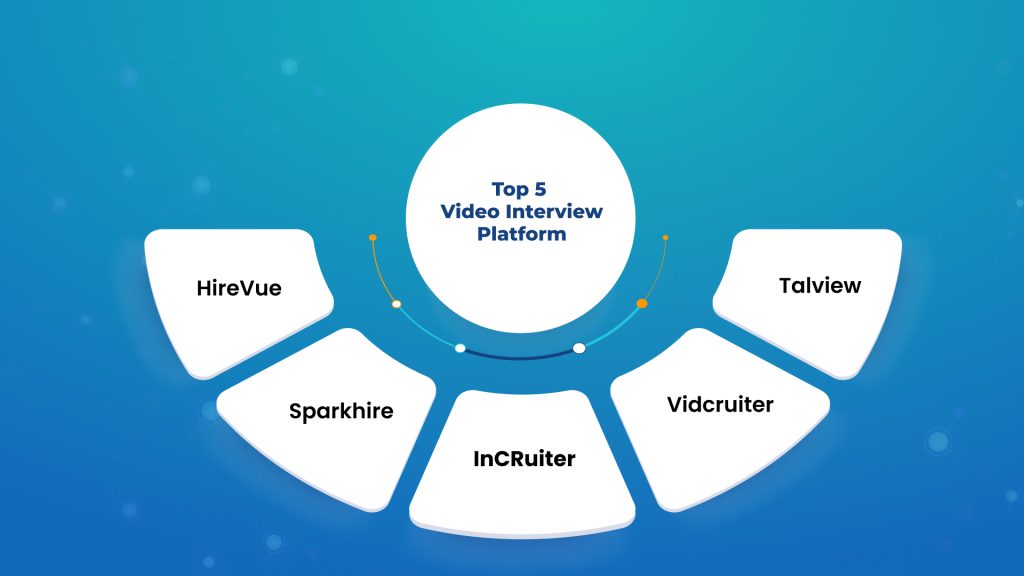 InCruiter
At the top of our list is InCruiter's InCVid. This video interview software helps to automate and streamline the recruitment process so that you can hire top talent. The platform comes with various features that speed up your interview process and make it convenient to use. InCVid has AI features like a live code compiler, on-the-spot feedback, a proctoring checker, and more. InCruiter also provides interview-as-a-service, one-way video interviews, and exit interview services. All these features help conduct interviews seamlessly and find the right talent.
"If you are someone looking for an effective AI video interview platform, then InCruiter should be your pick."
HireVue
One of the popular video interview softwares available in the market is HireVue. Known for its AI-driven features, HireVue is a great option if you are looking for data-driven hiring. They provide industry-wide solutions and offer a smooth and efficient video interview platform. Hirevue provides features like automated interview scheduling, candidate assessments, and predictive analytics.
Spark Hire
Known for its simple and effective platform, SparkHire is another great option for you to consider. SparkHire offers pre-recorded and live video interview options, which recruiters can choose according to their convenience. Spark Hire's significant feature is its one-way video interviews, where candidates have to answer a set of pre-recorded questions. This can be done at their own convenience, making this platform a flexible and convenient option.
VidCruiter
VidCruiter is one such video interview platform that offers end-to-end hiring solutions. It is a complete video interviewing software created to make the hiring process seamless. The platform provides a variety of features, including panel interviews, one-way video interviews, and live interviews. It is a good platform if you are looking for decent interview management software.
Talview
Last but surely not the least on this list is Talview. Their AI-powered platform minimizes bias with intelligent insights that enable data-driven decisions. Talview offers proctoring solutions that transform how organizations screen, interview, and evaluate candidates. If you are looking for a great budget-friendly tool, this could be your pick.
Conclusion
Video interview platforms have become a necessity for recruiters. For effective and smooth interviewing, it is important to choose the right video interview software based on your business. In the current market, these top 5 video interview platforms are making a buzz, and for all the right reasons. Whether you are looking for AI-driven assessments, brand customization, or seamless integration with other recruiting tools, there's a video interview tool to suit your needs.
Q1. What is a video interview platform?
Ans: Video interview platform is a tool that helps businesses conduct smooth and seamless video interviews. They come with various features that allow interviewers to have a hassle-free interview session.
Q2. Can a video interview software be attached with any ATS?
Ans: Usually, video interview softwares provides their own ATS. However, many softwares cannot be integrated with any ATS, and that can be checked with their product specifications.
Q3. Which is the best video interview platform in the market?
Ans: InCruiter is one of the best video interview platforms available in the current market.