Are you a business owner who struggles with conducting interviews because you don't have qualified people or resources? If yes, then you need an interview outsourcing company to get your interviews done with ease. In today's fast-paced business landscape, finding the right talent with suitable skill sets is more crucial than ever. Here an interview outsourcing platform can be a boon for recruiters. It specializes in conducting top-notch interviews at scale. Thus, it helps organizations to find suitable candidates faster and effortlessly.
With the frequent change in job dynamics, it has become crucial for businesses to step out of the traditional hiring methods and incline towards interview outsourcing. Overcoming the challenges, how interview outsourcing can transform your hiring in 2023? Let's find out in this article.
Challenges in the Modern Hiring Landscape
The modern hiring landscape is facing a lot of challenges when it comes to effective hiring. Traditional hiring methods are not fruitful enough in this digitally advanced world. With the tech revolutions, workforce expectations have also changed. Lack of time and resources, unavailability of expert interviewers, and a smaller talent pool reflect the evolving nature of the job market. Let us dig deep into some of these challenges that companies face in conducting interviews.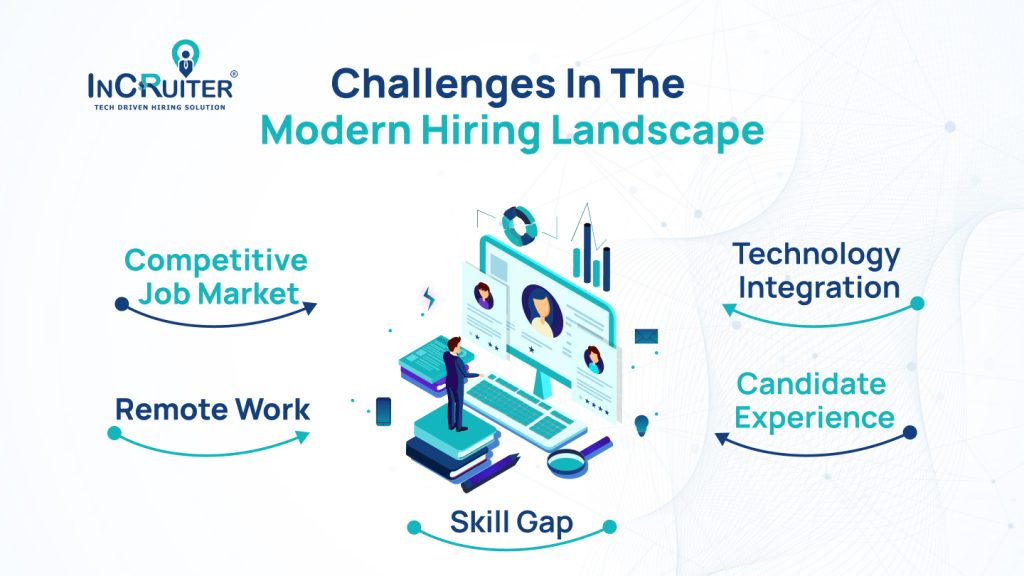 Competitive Job Market
With the growing competition in the job market, it is difficult for companies to find the right talent for their organization. With the job market being so competitive, everyone wants the best, making it difficult for companies to find suitable candidates from the shrinking pool of talent.
Skill Gap
In the current business scenario, it is difficult for organizations to find the right candidates with the required skill set. This is due to a number of factors, like rapid development in technological advancements and an increase in demand for specialized skills.
Remote Work
After the COVID-19 pandemic, the world has majorly shifted to remote working. With access to global talent, companies around the globe are facing hiring challenges. This has led businesses to change their hiring trends and find a more adaptable and flexible way of assessing candidates.
Technology Integration
The rise of AI and automation in hiring has emerged as a bandwagon. Coping with these flagship tools in talent acquisition is still challenging for most recruiters. It is essential to not lose the human touch and yet adapt to these transforming technologies.
Candidate Experience
Maintaining a good candidate experience is paramount for companies and yet is a big challenge. Businesses need to focus on providing a better candidate experience, from the first round of interviews to onboarding. Most businesses perpetually fail to do so. The reasons may include inconsistency in scheduling interviews, interview cancellation, or waiting forever to hear back from the hiring manager.
How An Interview Outsourcing Company Can Help?
The global interview outsourcing market is expected to reach $1.5 billion by 2027. With the increase in workforce demand and small talent pool, companies have been inclined towards an interview outsourcing company for all their hiring needs. From interview as a service to AI video interview platform or an interview scheduling software, they have you covered. Let us have a closer look at the role of an interview outsourcing company in hiring. 
Expert Interviewers
Having an expert interviewer panel is essential for effective hiring. Interview outsourcing companies have skilled professionals that are experts in their domains and can assess candidates better. These interviewers are well-versed across industries and job roles. 
Reduced Time to Hire
It's probably the biggest bottleneck in talent acquisition. From candidate screening to conducting interviews, enterprises have limited resources to do it at scale. An interview outsourcing platform can use its vast interviewer panel and cutting-edge tech to reduce the time to hire.
Data-Driven Insights
Interview outsourcing companies provide analytics of each interview which helps to analyze the candidate better & faster. The insights can help to understand industry trends and improve the overall hiring process.
Technological Integration
Interview outsourcing companies use AI tools for remote interviews and assessments. From detecting proxies to automatically scheduling interviews – interview outsourcing platforms appear as a reliable solution for talent acquisition managers. 
Save Time & Resources of HRs
By outsourcing interview as a service, HRs can save their time and put their focus on other priority tasks. Interview outsourcing companies handle the time-consuming process of candidate sourcing and screening.
Enhanced Candidate Experience
It helps in providing a positive candidate experience by streamlining the entire interview process. This leads to improved employer branding and a better brand reputation.
Conclusion
Outsourcing the interview process is a lucrative model for businesses, as it guarantees results. They act as a strategic partner to enhance and optimize talent acquisition for the better. By leveraging expertise, resources, and technology, it overcomes traditional hiring challenges and harnesses the overall recruitment process. 
Q. What is an interview outsourcing company?
Ans: An interview outsourcing company is a third-party company that has expertise in conducting interviews on behalf of other businesses.
Q. Does InCruiter provide expert interviewers to conduct interviews in a large number?
Ans: Yes, InCruiter has over 3000+ expert interviewers and 1000 interviewers in the pipeline that help conduct large scale interviews smoothly.
Q. Why is it important to use an interview outsourcing company for large scale hiring?
Ans: An interview outsourcing company has the right resources and enough bandwidth with which they can manage large scale hiring effectively.