Do you know that around 117 job applications are submitted every second, just on LinkedIn? Now, you can calculate the applications through other professional platforms, job portals, emails, and more. Isn't it hard to find the ideal candidates from thousands of applications? There comes the role of tech-enabled, AI-powered tools or outsourcing the hiring process to technical interviews as a service company.
As per Harvard Business Review, a whopping 86% of employers are looking for more advanced ways of hiring, especially at the initial stage, to replace human involvement. So, is the deployment of tools enough to get the best candidates?
No, you also need expert interviewers who have done such interviews in the past. For that, technical IaaS should be considered. So, let's decode this word and help you understand its underlying benefits.
What Is Technical Interview As A Service?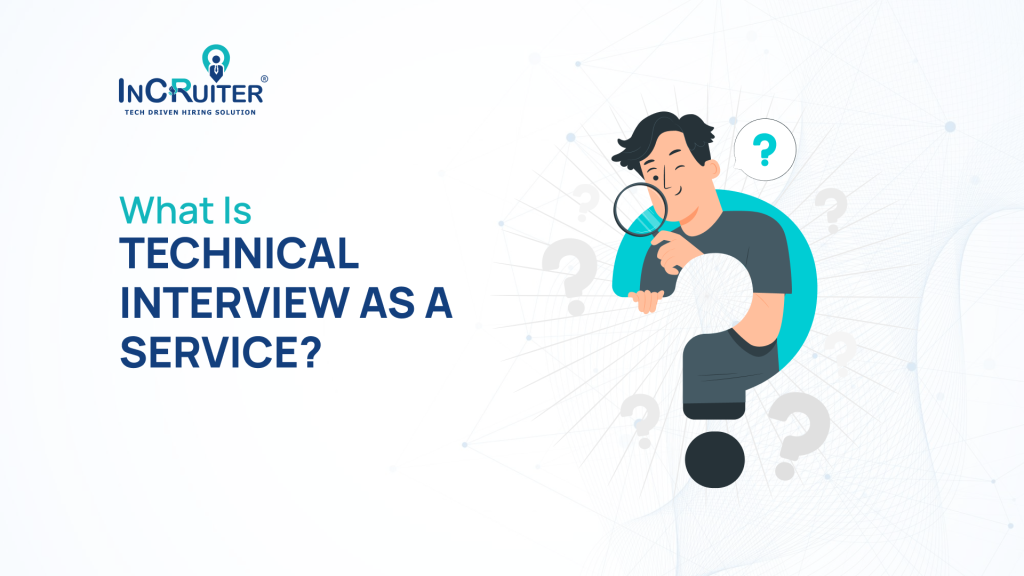 In this technology-driven, constantly developing world where creativity and innovations have no boundary, finding your company's top talents (focused on Computer science, information technology, and other technical domains) is not easy.
It becomes hard to get it done in the traditional way of hiring. The primary goal of technical interview as a service is to assess candidates' technological skills, thus the name "technical interview." During interviews, a team of technical interviewers assess applicants' technical knowledge and include activities that require critical thinking skills. 
Using the data gathered from the interviews, the interviewer better understands the applicants' technical skills. With this service's help, you can take a back seat and get the best candidates matching your requirements.
What Are The Benefits Of Taking Technical Interview-as-a-Service?
Below, we have mentioned the benefits of taking technical interview-as-a-service:
Increases Hiring Efficiency
Hiring managers have a lot on their plates, and one of the most crucial tasks is conducting interviews with potential applicants. If done properly, a technical interview as a service also has the potential to enhance productivity and time management.
It also helps employers save precious time on candidates with the skills to perform the job. The saved time becomes useful in polishing the less compatible employees.
Expert Interviewers
Technical IaaS provides a group of professional interviewers who are more efficient. These in-house or freelance technical interviewers have extensive technical knowledge and experience in shortlisting great talents. These professionals know the subjective factors of the interviewing process, which mostly lacks the company's HR team.
Free From Bias Hiring
The traditional recruiter process is marred with biases. It is one of the prominent reasons for suboptimal hiring decisions. Technical IaaS providers use video interview platforms to tackle this issue and follow standardized assessment criteria.
Using the services of long lists of interviewers, they select talents with precise skills and qualifications without bias. This results in higher-quality hires better suited to meet the client's requirements.
Preventing Fraud And Cheating Instances
A regrettable truth of any hiring process is the fraudulent activities (such as lip sync, impersonation, etc.) done by candidates to get the job opportunity.
Curation is impossible, so prevention is the only way to deal with it. The experts at technical IaaS companies use modern video interview software that can detect impersonation and other types of cheating.
Reduces Time To Hire
Firstly, it significantly reduces the time to hire. Traditional recruitment processes often involve lengthy screening, scheduling, and coordination procedures. With Interview as a Service, organizations can expedite hiring by conducting video interviews remotely.
This saves time and enables faster decision-making, ensuring top candidates are kept from lengthy recruitment cycles.
Cost savings
Additionally, innovations in recruiting contribute to cost savings. Video interview software eliminates the need for travel expenses, accommodation, and other logistical costs associated with in-person interviews. 
Organizations can redirect these resources toward other critical areas of talent acquisition, such as employer branding or employee development.
Branding And Enhanced Interview Experience
A positive interview experience is crucial in attracting top talent. Companies that offer a seamless and respectful interview process, with or without support from technical interviews as a service, enhance their brand image. It further increases their chances of securing the best candidates.
You also get detailed reports on selected candidates. Getting insights into their knowledge, communication skills, experience, and background becomes super easy. This comprehensive information helps clients make informed hiring decisions and is a valuable future reference.
Final Thoughts
There are so many companies available in the market that are unable to fulfill their goals just because of the employee base.
Since employees are the key factors in success and failure, organizations must maintain the interview quality when hiring them. Technical interview as a service is a modern recruitment solution since it gives the top priority to the experienced applicant with the help of standardized processes where the least experienced candidates are also welcomed to show their creativity. Want to try how it works?
Schedule a free consultation call with team InCruiter.
Source: https://www.forbes.com/sites/janehanson/2023/09/30/ai-is-replacing-humans-in-the-interview-processwhat-you-need-to-know-to-crush-your-next-video-interview/?sh=385e4b2f1add
Q1. Why should you choose technical interview-as-a-service?
Ans: Technical interview as a service is a modern approach to hiring top technical talents by outsourcing the recruitment process. It offers reduced hiring time, cost-effectiveness, improved quality of hires, and access to domain experts. It helps streamline recruitment, ensuring you select the right candidates efficiently.
Q2. How does a technical interview-as-a-service work?
Ans: You schedule a call with our team to discuss the requirements and various modalities of the process. Once you get on board with us as a client, we conduct technical and non-technical interviews with the help of 3000 + freelance interviewers. We work closely with your HR or recruitment team to understand the job requirements and assess candidates through various interview rounds, including technical evaluations.

Q3. Are technical interviews as a service conducted remotely or on-site?
Ans: At InCruiter, we use ultra-modern video interview tools to conduct interviews remotely. It makes it convenient for both candidates and companies. Our interviews ensure flexibility and accessibility.