The average corporate opening sees about 250 applications for a single position. That's huge. This number can easily go up! As you can see, the job market is getting more competitive with each passing second. So, there is a need for robust technology like interview intelligence platform to manage this surge and ensure you hire the best candidate amidst all the chaos. 
Having an interview intelligence platform by your side can offer you all the support you need to cut through the chaos. That said, not every hiring platform possesses the necessary intelligence. To help you out, we are here with the top 5 video interview platforms that guarantee optimal hiring.
Things To Keep In Mind While Choosing Ideal Interview Intelligence Platform 
These are a few pointers that will ensure you choose the right interview-as-a-service platform. 
Integration with Your Current Systems
Make sure that the platform you choose can seamlessly integrate with your existing HR or applicant tracking systems. This integration can streamline the interview intelligence process and improve data flow.
Customization and Flexibility
Look for a platform that allows you to customize interview questions and feedback forms to match your specific job roles and organizational needs. Customization can help you gather relevant insights.
User-Friendly Platform And Easy Navigation
The platform should be intuitive and easy to use for both interviewers and candidates. A complicated platform can lead to user frustration and hinder adoption.
AI and Data Analysis Capabilities
When we say intelligent, you need a platform that needs to be on top of technology. Evaluate the platform's AI and data analytics features.
Flawless Growth
Consider whether the platform can scale as your organization grows. It should be able to accommodate an increasing number of interviews and users.
Reporting and Analytics
Look for robust reporting and analytics tools. The platform should generate meaningful reports and insights that can help in improving your interview and hiring processes.
User Reviews and References
Seek out user reviews and ask the platform for references from organizations that have successfully implemented the software. It can give you insights into real-world experiences.
Demo
If possible, look for platforms with a demo or trial period so you know what you are getting into.
Best 5 Interview Intelligence Platforms For Hiring
Without any delay, let's unpack the best interview intelligence platforms that you can use.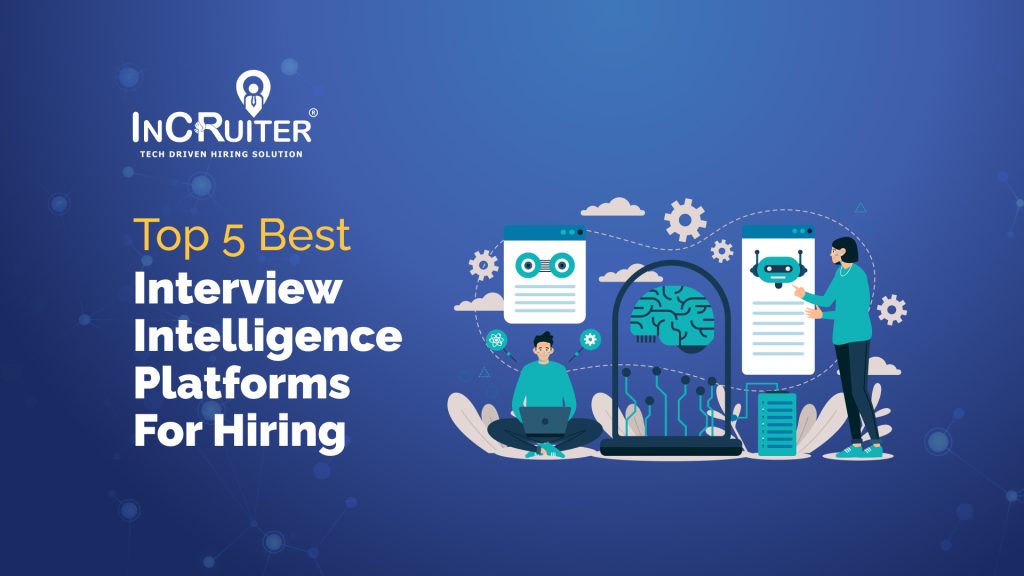 InCruiter
The first one on our list is InCruiter, which stands out as an intelligent interview platform. It uses advanced technology to streamline your hiring process. The platform combines advanced AI and data analytics to enhance the recruitment journey for both employers and candidates. 
InCruiter's easy-to-use interface simplifies the interview process. It allows for easy customization of questions and feedback forms. InCruiter's interview intelligence platform is scalable, ensuring it can adapt to organizational growth while maintaining a strong focus on data security and compliance. With its emphasis on candidate experience and comprehensive reporting tools, InCruiter offers a promising solution for organizations seeking to optimize their recruitment efforts.
iMocha
iMocha is the next on our list of intelligent interview platforms that enhance the hiring process with its innovative approach. It uses AI technology to streamline the interview experience for both recruiters and candidates.
The platform easily offers customizable questionnaires, data analysis, and insightful reporting, which can help you make the right decisions. While iMocha is an excellent choice for organizations seeking a modern platform, it may lack a few features present in InCruiter that offer a wholesome user experience. 
ModernHire
ModernHire is another Robust intelligent interview platform that lets you hire quickly while reducing any bias. They offer a predictive hiring technology that can make it easier for some to hire the right candidate. ModernHire's commitment to user experience and its focus on efficiency makes it a valuable choice for organizations aiming to optimize their recruitment efforts. However, it lacks a few AI features that can be disappointing for a few. 
BrightHire
BrightHire redefines the hiring process with features such as customizable interview questions, comprehensive analysis, and insightful reporting. It also brings you AI capabilities that can give an edge to your hiring process. The platform also has a candidate-first mentality that ensures you always impart a positive experience. However, navigating through their advanced features can be overwhelming for some. 
FloCareer
The last interview intelligent platform on our list is FloCareer. It offers a hassle-free and efficient way to schedule, conduct and evaluate interviews. They also have a set of AI tools on offer that can optimize the process. With customization features and high-quality video, FloCareer can be a great choice for you. However, it may not easily integrate with the existing HR systems or if it does, the process may be slightly complex, which can be off-putting for some.
Wrapping Up
These were the top five intelligent interview platforms that can simplify your entire hiring process. Each platform comes with its own unique features. But the one that truly stands out in every sense is InCruiter. 
InCruiter takes care of every aspect of your interview, from scheduling to offering real-time feedback. It is not only an excellent platform for employers but also ideal for candidates and helps you offer them a positive experience.
Source: https://www.zippia.com/advice/how-many-applications-does-it-take-to-get-a-job/#:~:text=It%20takes%2021%20to%2080,between%201%2D10%20job%20applications.