Did you know that 60% of recruiters turn to video technology to interview candidates? This is mainly because of the convenience and ease the platform offers. In today's technologically advanced world, conducting video interviews has become much simpler with the help of video interview software. These platforms not only facilitate hassle-free online interviews but also offer additional benefits such as applicant tracking systems, assessments, and expert interview panels.
However, there are numerous video interview platforms available. So, it can be difficult to choose the best option. But you don't have to worry because we are here to assist you in making the right choice. We are here with a comprehensive comparison between two leading interview-as-a-service platforms, InCruiter and Interviewer.ai. Continue reading ahead to know all about their features and capabilities.
Points To Consider Before Choosing Video Interview Software
Video interview platforms are the need of the hour and will continue to elevate the recruitment process for years to come. In fact, 82% of hiring managers use virtual interviews in their recruitment process today. So, before you jump into understanding the two popular video interview software, InCruiter v/s Interviewer.ai, let's take a look at a few points you must keep in mind before choosing the right platform. Following these pointers can help you make an informed decision.
Is It Compatible?
One important aspect, particularly if you use other software in your recruitment process, is to ensure that the video interview software you choose should be compatible with your existing systems and tools. This compatibility is crucial for seamless integration into your recruitment workflow.
What Are The Features?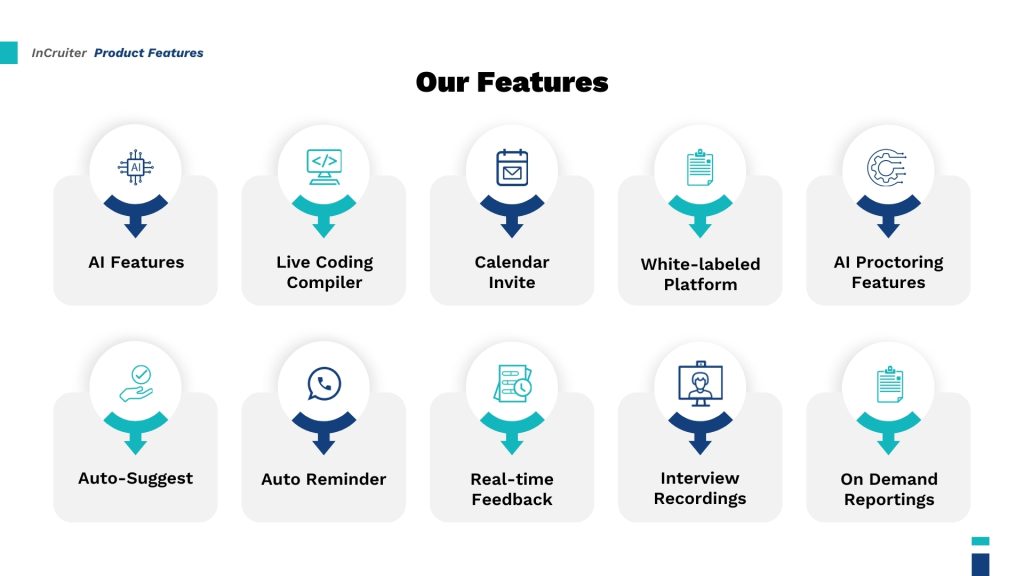 Video interview tools offer a wide range of online interview features. Therefore, it is important to evaluate everything they have to offer. For example, InCruiter provides additional beneficial elements such as applicant tracking systems, assessments, and expert interview panels. Once you have thoroughly reviewed the features, you can determine which platform aligns best with your recruitment needs.
Does It Have A User-Friendly Interface?
You don't want a video interview tool that's complicated and difficult to navigate. Hence, look for something that comes with a user-friendly interface.
Is It Secure?
Remember, data security is of utmost importance when conducting interviews online, whether you are a small or a big organization. Therefore, the video interview software you finalize must provide robust security measures to protect sensitive information.
Can You Integrate It With the Current Software?
You must consider whether the video interview platform you choose integrates with other recruitment software or tools you currently use for seamless data transfer.
Is It Budget-Friendly?
You don't want to burn a hole in your wallet when it comes to video interview software. Today, you will find a comprehensive platform at a budget-friendly price. Therefore, check the pricing plans and subscription options offered to ensure they fit within your budget while meeting your requirements.
How Is The Customer Support?
Customer support is another valuable aspect you cannot ignore. Therefore, take a look at the level of customer support provided by each platform, i.e., Incruiter and Interviewer.ai, such as availability, responsiveness, and more.
Flexibility And Scalability
The video interview software you choose must be able to handle your changing needs, such as scaling up for increased growing demands or even adapting to different interview formats.
Positive Candidate Experience
Finally, make sure the platform you choose is able to offer a positive candidate experience, as it is crucial for attracting top talent. Look for features, such as user-friendly interfaces and more, as provided by InCruiter.
InCruiter v/s Interviewer.AI: Detailed Comparison
When it comes to popular technical video platforms, InCruiter and Interviewer.ai are highly preferred today due to the numerous advantages they offer. These platforms not only provide a simplified environment for conducting online interviews but also contribute to accelerating the hiring process and making the overall recruitment experience seamless.
With InCruiter's InCVid, you get a structured AI-powered platform to conduct seamless interviews. It comes with an in-built ATS system and is ideal for conducting both technical and non-technical interviews. Right from live interviews to a real-time feedback system, it offers you everything you need for a robust interview to make sure you onboard the best candidate. Moving to Interviewer.ai is again an AI-powered software that helps you conduct structured interviews with resume scoring, assessment and more. Let's take a look at the detailed comparison below and understand which video interview platform is ahead in the race.
| Features | InCruiter | Interviewer.ai |
| --- | --- | --- |
| Candidate Tracking | ✓ | ✓ |
| Scheduling | ✓ | ✓ |
| Calendar Invite | ✓ | X |
| Auto JD to CV Match | ✓ | X |
| Job boards Posting | ✓ | ✓ |
| Real-Time Feedback | ✓ | ✓ |
| AI-Powered JD | ✓ | X |
| Video Interview Platform | ✓ | ✓ |
| Live Code Compiler | ✓ | X |
| Interview Slot Mapping With Panel | ✓ | X |
| Panel Management | ✓ | X |
| White-Labelled Feedback Report | ✓ | X |
| Live Video Interviews | ✓ | ✓ |
| One-Way Video Interviews | X | ✓ |
| Applicant Tracking | ✓ | ✓ |
| ATS Integration | ✓ | ✓ |
| Screening AI Questions | ✓ | ✓ |
| Interview Training | X | ✓ |
Conclusion
Choosing a technical video interview platform or a tool doesn't have to be a complicated decision. The above comparison between InCruiter and Interviewer.ai reveals the range of impressive features they offer. InCruiter stands out with its applicant tracking systems, assessments, expert interview panels, and more, and it provides comprehensive tools for efficient hiring.
However, it is essential for you to consider your specific recruitment needs and other factors like compatibility, user-friendliness, and more before making a decision. And always look for a platform with a free demo, so you know what you are getting before you make a commitment.
Q. What is the difference between interviewer and interviewee?
Ans: An interviewer is the one who takes the interview, while the interviewee is the candidate applying for a particular job. 
Q. How does InCruiter work?
Ans: InCruiter is an exceptionally popular video interview platform that comes equipped with an expert interview panel and a variety of other features such as assessment, real-time feedback, and more to ensure you hire the best candidate.
Q. Why should you use interview-as-a-service?
Ans: Interview-as-a-service provides a variety of advantages such as convenience, efficiency, cost-effectiveness, and more. for streamlined and effective interview processes. This elevates hiring outcomes.