No matter how efficiently you're navigating recruitment in your company, the initial screening process is still intimidating and time-consuming. This is where a one-way video interview service comes into the role. This innovative tool is designed to help organizations expedite their interview procedure, enabling them to save their time, resources, and money.
Wondering how it can help you hire the top talent for your company? Let us answer all your questions. In the following blog, we will help you understand everything about the benefits and best practices of one-way video interviews.
Understanding the Role of One-Way Video Interviews
Instead of involving recruiters in the recruitment procedure, candidates applying for a vacant position through one-way interview services would be provided with pre-recorded questions to record and send back for the assessment. Since there's no role of a recruiter, applicants can record their interviews at their own convenient time on One-way Video Interview software.
It is said that these tools have reduced the hiring time by 75% and lowered the hiring costs by 80%, which are some huge numbers to consider. So, if you're looking to conduct human-intervention-free interviews without compromising on the efficiency and quality of the process, one-way video interview tools are the right solution for you.
What are the Benefits of One-Way Video Interviews?
Have a look at the benefits of a one-way video interview:
Shorter Time-to-Hire
This tool can cut your time-to-hire in half by forming competence in your hiring procedure. Applicants can complete their interviews at their own pace, eradicating the need for extensive coordinating efforts. The hiring team can review candidates' responses at their convenience, reducing the time to hire.
Enhanced Collaboration
AI interviews make it easier for team members to collaborate and evaluate applicants. They can review responses independently and then discuss the result to make an informed decision.
Reduces the Risk of Bias
Developing a reliable, standardized video interview procedure allows help recruiters to mitigate the risk of unconscious bias, ensuring inclusivity and fair hiring.
Record, Save and Review Interview Videos
With interview-as-a-service, recruiters can record, save, and review the candidates' responses for audits and make well-versed decisions.
Improved Candidate Experience
One-way video interview software allows candidates to take the interview without rearranging their schedules or taking time off work. This improved candidate experience can improve employer brand and attract top-notch talent across the globe.
Access to a Global Talent Pool
You can tap into a wide talent pool with a one-way video interview platform, as it allows candidates to give interviews irrespective of their geographical location. This is specifically for candidates seeking remote work and companies looking to expand their remote workers.
Best Practices of One-Way Video Interviews
Follow these practices to conduct efficient one-way video interviews of candidates: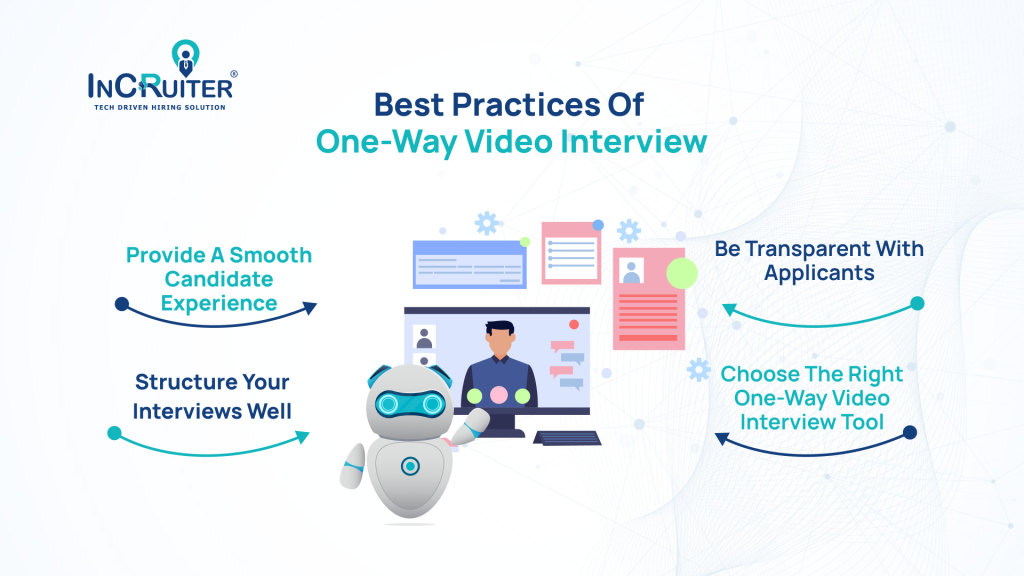 Ensure to Provide a Smooth Candidate Experience
To make a brand remembered by every candidate, remember to put a smooth candidate experience first. Introduce your organization, allow candidates to re-record their interview, and find ways to make the interview procedure engaging.
Be Transparent with Applicants
When conducting an AI interview, make sure to be transparent about your organization and work culture with the applicants. Provide a recorded introduction of your company and what you're expecting from the candidate to fill the position.
Structure Your Interviews Well
Keep AI interviews short and effective as they're intended to substitute phone interviews rather than face-to-face video interviews. Create a pre-determined set of questions, and don't forget to collect feedback after the fact to enhance the procedure.
Choose the Right One-Way Video Interview Tool
Last but not least, pick the right AI interview tool like IncBot to meet your hiring needs. Ensure the tool accommodates an organization of your size and serves the finest customer experience.
Summing Up
With their improved efficiency, candidate experience, and reduced bias, AI interviews offer numerous benefits for job seekers and employers. If you're still wondering whether this tool is right for you or not, this is the right time to give it a try.
To know more, Schedule a Demo with us.
Q1. What is the purpose of one-way interviews?
Ans: The purpose of one-way interviews is to simplify the initial screening procedure by enabling candidates to record their answers to pre-determined questions, saving time and resources for both employers and candidates. 
Q2. Are one-way interviews effective?
Ans: Indeed! One-way interviews are effective in many ways. From improving efficiency and reducing bias to providing flexibility in hiring procedures, this tool is leading the industry.
Q3. What are the differences between one-way interviews and two-way interviews?
Ans: The key difference between one-way interviews and two-way interviews is that in one-way, candidates can record their responses independently, while in two-way, a real-time face-to-face conversation is involved with the interviewer.