The demand for seamless recruitment processes continues to grow, and interview-as-a-service platform is playing a crucial role in it. Almost 86% of employers believe that video interviewing has improved their hiring process. From AI video interviewing and automated scheduling to comprehensive candidate assessment tools, these platforms are aimed at streamlining the hiring process. 
In this article, we bring you the best video interview tools and walk you through the tips that can help you choose the right one. Let's dive in!
How To Choose The Ideal Interview-as-a-service Platform?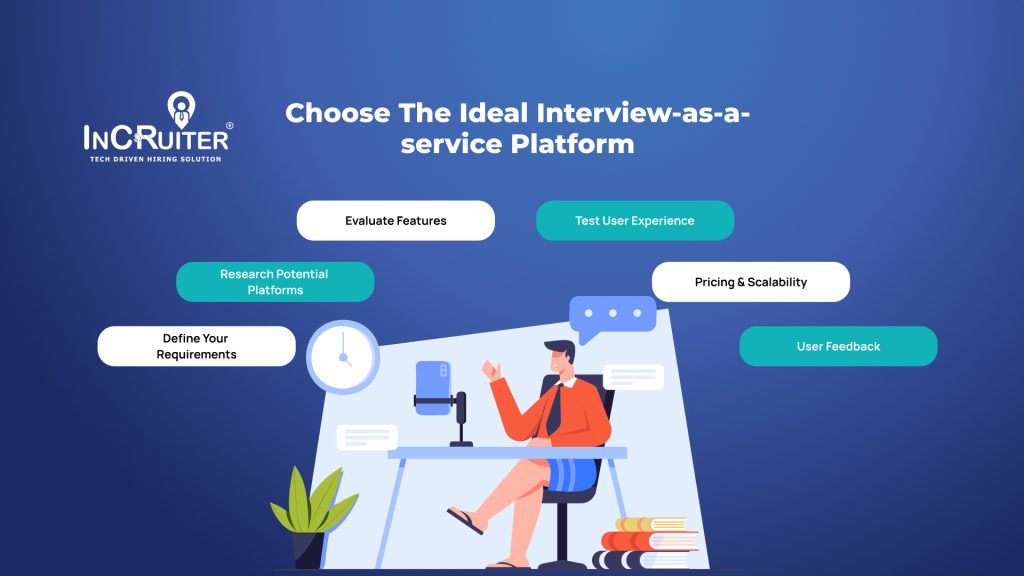 Before we unpack the best interview-as-a-service platforms of 2023, let's understand how you can choose the right platform for your organization. 
Define Your Requirements
Clearly outline the types of interviews, integration needs, customization, collaboration tools, candidate experience, and analytics you require. This helps you make a decision easily. 
Research Potential Platforms
Search, ask for recommendations, and read reviews to identify interview-as-a-service platforms that align with your requirements.
Evaluate Features
Assess interview creation, video capabilities, collaboration, integration options, customization, candidate support, analytics, and security. Go through every feature and see how it can help you. Ensure that AI-integrated features are offered with their service.
Test User Experience
Request demos to understand user-friendliness for both your team and candidates. Make sure you try it out before committing to it. 
Pricing and Scalability
Consider platform pricing and scalability to match your budget and growth plans. You don't want to keep switching platforms. The one you choose must meet your long-term goals. 
User Feedback
Collect insights from team members and candidates regarding the platform's usability. 
Compare and Decide
Create a comparison chart to make an informed choice based on findings and stakeholder input. Take a look at the best platforms below and decide for yourself. 
Top 5 Best Interview-as-a-service Platforms in 2023
We see that almost 43% of companies plan to increase their use of video interviews in the next year. Here, choosing the right interview-as-a-service platform will prove fruitful because of the several advantages it fetches you. So, let's take a look at the best interview-as-a-service providers that can take your recruitment to the next level. 
InCruiter
The first one to make our list is InCruiter. It is a standout interview-as-a-service platform, which has redefined the hiring process with its innovative features.
Known for its user-friendly interface, InCruiter streamlines candidate assessments with AI video interviews, interview scheduling, and AI-driven analytics. InCruiter's interview-as-a-service platform enables organizations to make data-driven hiring decisions efficiently, offering a comprehensive interview suite for HR managers. With its robust integration capabilities and customizable workflows, InCruiter sets a high standard when it comes to HR tech. 
FloCareer
The next interview-as-a-service platform on our list is FloCareer. It brings you an interactive live video platform that helps you conduct unbiased interviews. From scheduling interviews to evaluation, it takes care of several aspects of an interview to make it hassle-free for you.
FloCareer also offers AI-powered tools and focuses on high-quality video interviews. However, they don't offer real-time feedback like InCruiter. Also, FloCareer is more specific to the interview process, helping with video interviews and interview-related tasks.
BarRaiser
The third name on our list of the best interview-as-a-service platforms is BarRaiser. It helps you conduct smarter interviews, interview coaching, and a lot more. You can easily integrate it with your existing HR systems to smoothen the workflow. 
BarRaiser also uses AI recommendations to fill in the feedback with just a few clicks. However, it doesn't offer any other AI-driven features, which can be slightly disappointing for some.
eTeki
eTeki is a popular interview-as-a-service provider that connects companies looking for technical talent with a global network of subject matter experts. They conduct technical interviews on behalf of organizations. These skilled interviewers assess candidates' technical abilities and help you make the right decision. However, if you are looking for a non-technical candidate or AI features to streamline your recruitment process, you may not find it here. 
Interview Desk
We are wrapping up our list with the Interview Desk. They help you accelerate your interview process with on-demand tech interviews. Their experts align with your team to understand your requirements to help onboard the ideal candidate. With detailed feedback on candidates' skills and expertise at every stage of the interview process, they make the process effortless. They offer you seasoned professionals from domains like SAAS and FinTech. However, in the AI-driven world we live in, InterviewDesk lacks the necessary AI features other platforms offer.
The Right Interview-as-a-Service Platform Can Make A Significant Difference!
Now you know the best interview-as-a-service platforms of 2023, which will continue to grow in 2024 as well. It is seen that AI in hiring can reduce hiring time by up to 23 hours, and the hiring costs by 75%. Therefore, selecting the right platform like InCruiter can make a significant impact on your recruitment processes. Whether you prioritize video interviews, candidate assessments, or integrations, the right choice can greatly enhance your hiring efficiency and the quality of your team. Make your decision wisely because it matters.
Source: https://abdalslam.com/video-interviewing-statistics, https://www.pockethrms.com/blog/ai-in-recruitment/#:~:text=AI%20in%20Recruitment%20Statistics,-We%20have%20provided&text=On%20average%2C%20AI%20in%20hiring,increase%20in%20revenue%20per%20employee.
Q1. What are the two types of virtual interviews?
Ans: The two main types of virtual interviews include one-way and live interviews. In one-way interviews, the candidate has to respond to a set of pre-recorded questions within a given deadline. Whereas, live interviews are face-to-face interactions that occur virtually. 
Q2. What is the most popular type of interview?
Ans: The most popular type of interview is a personal interview that's held face-to-face with a potential candidate. 
Q3. What is interview-as-a-service?
Ans: Interview-as-a-service is a platform that offers a myriad of tools to make conducting interviews easier. It typically includes features for interview scheduling, video or in-person interview management, collaboration, and analytics to enhance the hiring process.